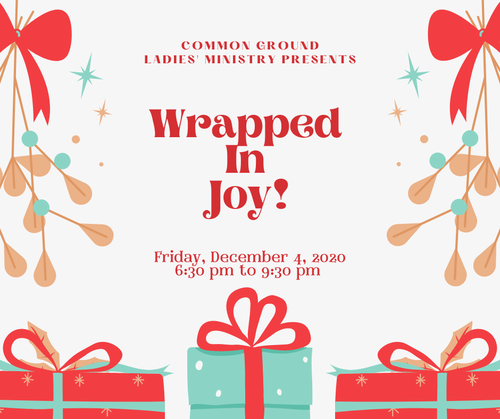 Wrapped in Joy: A Christmas Gathering
The lovely ladies of Common Ground Church will gather at Lori Garmus' home for an evening of fun, food, and fellowship! Please bring a heavy appetizer and/or dessert to share. (If you are uncomfortable sharing food, feel free to bring your own snack!) We will once again be collecting new donation items for Christian Family Care for the foster children and families (more specifics are coming soon). Dress as festively as you would like! Masks are not required, but please feel free to wear one if it makes you more comfortable. Friends are always welcome! Let's get our Christmas on!
We prayerfully seek to glorify God by offering biblically-based events and activities as a ministry to the ladies of Common Ground Church and the community. We strive to address the spiritual needs of women, support missions, and promote a fellowship that serves with compassion and love while maintaining a spirit of grace and forgiveness. Our goal is to encourage and strengthen each woman's relationship with Jesus Christ. Whether you are married, single, older or younger, there is a place for you to connect with other women in our Women's Ministry.